Top Rated Commercial Heating Service in IL
Enjoy top-rated commercial heating service in IL with Xcell Mechanical Services. We make our technicians available 24 hours a day because you never know when an emergency will happen. As a result, we can react quickly to keep your business from having to shut down from a lack of heating. Because of that, commercial clients throughout the Midwest recognize us as their go-to provider of heating service. At Xcell, we make boilers our business. So, we sell, install, repair, and replace heating and cooling systems all the time. So, no matter what your needs, we can provide solutions. Are you concerned about your commercial heating system? That is okay. You can use our quick, convenient contact form by clicking here to set up an inspection with us right now.
Commercial Heating Service in IL Keeps You Safe
You can never prioritize safety too much when it comes to your heating system. For that reason, we make sure your system runs properly with our commercial heating service in IL. Xcell Mechanical Services conducts thorough inspections of your equipment and can provide emergency repair if necessary. In order to educate you on what our techs do, read the following checklist:
We verify that there are no leaks from any part of the boiler or piping external to the boiler. We can repair any cracked surfaces immediately. Additionally, we can repair any bulges or other deformities that indicate defective controls, safety devices, or improper burner operation
Our techs confirm no danger signs of erosion, corrosion, or overheating are present.
We will test that boiler controls function properly. This includes testing of the pressure gauge, low water cut-off devices, thermometers, temperature controls, gauge glass, and the pressure relief valve.
We will check drains and blow-offs to ensure they are working properly.
Our expert will ensure that all shut-off valves remain free from leaks.
The fuel system will get inspected to ensure filters and strainers have been replaced. In addition, we will check for leaks.
In addition, we verify all flame scanners and sensors are connected properly and functioning.
We make sure valves in instrument lines are functioning as they should.
Also, we make sure the re-circulation pump works as required.
We check all instruments and safety devices for proper settings.
Quality Products at Great Prices
We make sure your existing equipment runs properly with our commercial heating service in IL. However, we can sell and install products with superior performance at a great price if you need replacement. We offer systems from trusted product providers through ComTech Industrial such as: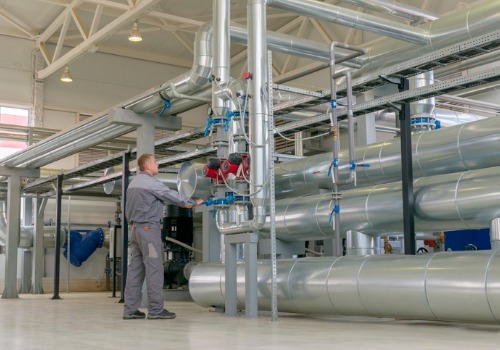 Delta Fabricating
Unilux Water-Tube Boilers
Boiler Feed Sets and Deaerators (B.F.S.)
Burnham Commercial Steel Boilers
Patterson Pumps
Riello Forced Draft Boilers
Thermal Solutions Hot Water Boilers
Crown Boilers
Contact Us
Do not hesitate if you need a commercial heating service in IL. Call Xcell Mechanical Services for all your design, installation, and service needs for heating and cooling systems. Dial 309-359-3084 for a fast, reliable response 24 hours a day. In addition, you can use our convenient online form by clicking here to request a free quote.