We Do Commercial HVAC for Illinois
Xcell Mechanical Services is your go-to HVAC/R service and installation company located in Mackinaw, IL. As one of the Midwest's top choices for commercial HVAC in Illinois, you can count on our experts who are well-trained in all mechanical services. Backed by many years of experience in this industry, we provide exceptional service and installation of all heating, ventilating, air conditioning and refrigeration equipment and systems, as well as temperature controls.
We have a vast selection of quality products by trusted manufacturers, with services and products including:
Minor system repairs
Major system components
Compressors
Fans
Motors
Contractors
Blowers
Coils
Controls
Complete condensing units
Rooftop units
Although we built our reputation on our service and installation of commercial and industrial boilers, rest assured we are also specialists in service and installation of all forms of heating, air conditioning, refrigeration and temperature control systems. As specialists in heating systems and accessories from leading manufacturers such as Riello Burners, Burnham Commercial Boilers, BSF Industries and Patterson Pumps, you get affordable prices and financing options.
We're different than other mechanical service companies because we are a servicing distributor. Our affiliation with the manufacturers allows us to act as their representative in Central Illinois. This benefits you because we can offer components and systems at a very competitive price.
Serving Illinois, Indiana, and Missouri, we strive to offer our clients the best service at affordable prices. So, when the time comes for you to repair or replace your HVAC systems and components in Illinois, depend on Xcell Mechanical Services.
HVAC Products
Here's a look at just some of the systems and components we can fix and install:
Heating
Furnaces
Boilers
Hot water and steam heating
Rooftop units
Heat exchangers
Heat pumps
Radiant panels
Electric heaters
Warehouse unit heaters
Infrared tube heaters
Ventilators
Radiant heaters
Wash tanks
Parking deck heaters
Ventilation
Industrial exhaust
Combustion make-up air
Production exhaust
Whole building exhaust
Kitchen hood and bathroom exhaust
AC
Split systems
Electrical cabinet coolers
Rooftop units
Heat pumps
Chilled water comfort
Ductless mini-split
Window units
Thermal storage systems
Portable air conditioners
Refrigeration
Walk-in coolers and freezers
Refrigerated warehouses
Commercial ice machines
Fluorocarbon refrigerant systems
Reach-in coolers and freezers
Meat/food processing plants
Rack systems
Medical storage freezers
Refrigerated cases
Cold storage freezers
We also offer temperature control service on pneumatic, electronic and digital control systems, with a full range of system design, installation and programming.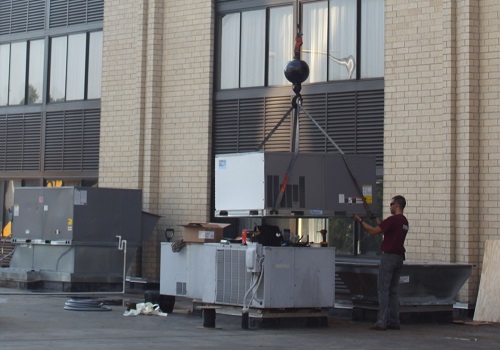 Whether your business's AC system is giving you trouble or your furnace needs replacing, Xcell Mechanical Services should be your first destination for superior products. We use those products in all our HVAC, AC and furnace installation jobs, serving a variety of markets with our products, including:
Commercial
Industrial
Healthcare
Education
Retail
Contact Xcell Mechanical Services
To learn more about commercial HVAC in Illinois, please contact Xcell Mechanical Services at 309-322-7542 or email us at info@xcellmechanicalservices.com. We are located at 30068 Illinois RT 9 in Mackinaw, IL.