Get a Routine Boiler Inspection in IL
A properly running boiler is essential for any business, as it can mean energy savings, safer work conditions and a continued level of comfort for customers and employees alike. However, before your boiler needs maintenance, it's smart to perform a full boiler inspection. Conversely, if you wait for your boiler to have problems, you can be looking at higher repair costs or complete boiler replacement as the worst-case scenario. So, if needing a boiler inspection in IL, count on the professionals at Xcell Mechanical Services.
The team at Xcell Mechanical Services knows a thing or two about proper boiler upkeep. And we understand how frustrating it can be when your boiler breaks down or isn't working as it should. With our highly trained technicians, we can perform a complete inspection of your boiler and perform any necessary preventative maintenance. And, for more severe issues, we offer heat pumps, burners, and other boiler products to repair or replace your facility's boiler system.
What Do We Inspect?
As commercial boiler experts for Illinois, Indiana and Missouri, we know what to look for during an inspection. It's crucial to identify potential problems with your boiler before they prevent your heating system from working entirely. Thus, we are sure to check your boiler's:
Burner – The burner directly impacts the efficiency of your boiler system. The better your burner works, the better the heat transfer between it and the water it must heat. However, if your burner becomes rusty or dirty, it will put out less heat. And, with less heat, your boiler will struggle to continue heating water.
Gauges – Every gauge that is a part of your boiler system is to ensure all levels are optimal, and your boiler is running safely. However, without gauges, how can you tell if a problem may occur? Part of an inspection isn't just observing what gauges say but making sure gauges themselves are working. If they aren't, your heating can be compromised, and you wouldn't know it.
Connections – Every boiler is connected to the water of your facility, and many are connected to gas. For checking every water connection, we ensure there is no leaking, as it may cause adjacent water damage. Gas connections are more serious when checking for leaks, as they can expose you to a lethal level of carbon monoxide if you're not careful.
Valves – Boilers have several valves in place as safety measures. If all else fails, a valve can relieve pressure buildup in a system, thus averting a serious problem. However, if those valves are broken or clogged up, the pressure buildup can become too much. And, in severe cases, boiler malfunctions could endanger those in your facility.
Here for Your Business
Xcell Mechanical Services is here to ensure your business is running safely, comfortably and at peak efficiency. Aside from a boiler inspection for IL businesses, we offer a variety of other services to improve the heating and cooling of your facility. For example, our services and products include: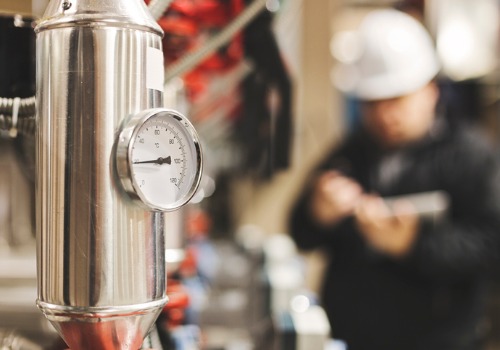 Call Us Today
Before issues arise and you end up paying more than you should, schedule your boiler inspection in IL with Xcell Mechanical Services. Call us today at 309-359-3084 to request a quote. Also, we are located at 30068 IL-9, Mackinaw, IL 61755.